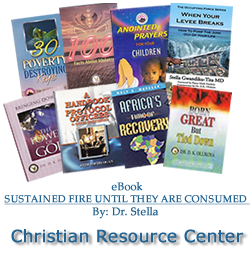 Sustained Fire to Demolish Strongholds
Click Here To Listen To This weeks prayer
Prayer Line: Call # 712-432-0075 – Pin 835555#
Everyday.
11pm – 12.30am US CST.
12am – 1.30am US EST
9pm – 10.30pm US PST.
We started a prayer progamme called sustained fire in the ministry. We will be praying daily from 11pm central time to about 12.30am. Praying fervent, hot prayers continually and on a daily basis will dem Continue reading »
Prayer Line:
Call # 712-432-0075
Pin 835555#
Thursdays 10pm- 12am
United States / Central
PRAYERS TO DESTROY EFFECTS OF EVIL FOUNDATIONS
1. O Lord, forgive me for ever making myself an object to be pursued.
2. I command blindness to fall on every stubborn pursuer of my life, Continue reading »