Prayer Line: Call # 712-432-0075 – Pin 835555# Everyday.
11pm – 12.30am US Central Time.
Apart from doing the 70 day prayer and fasting program. We are doing 40 nights with God on our prayer line.
Fasting is from morning till 3pm with no food, no water. Please contact you doctor before starting a fasting program.
This program goes from before you were born and cleans your foundation. Is reaches into your past to break ties with people, place and things that have held your moving forward.
Please order you copy, join us or start a program in your church.
See the daily topics for all forty nights.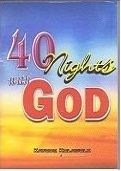 Night 1 The Courtship of My Parents
Night 2 The Wedding Of My Parents
Night 3 The Day of My Conception
Night 4 Period of Pregnancy
Night 5 The Day I was born
Night 6 Challenge Your Name By Fire
Night 7 Freedom from the powers of my Father's House
Night 8 Victory Over The Wicked
Night 9 War Against Household Wickedness
Night 10 Home Town Captivity
Night 11 Towns I Visited In The Past
Night 12 Victory Over Cross Road Altars
Night 13 ` Dealing with Members of My Body
Night 14 Coming Out of Old Friends Captivity
Night 15 My Past Dreams
Night 16 Deliver Me From Evil
Night 17 Deliverance For My Destiny
Night 18 Dominion Over The Earth
Night 19 Landmark Deliverance
Night 20 Disgracing Satanic Decisions
Night 21 Deliverance For The Day
Night 22 Power of Yes and No
Night 23 Power of Sight and Sound
Night 24 Ancient of Days Come To My Rescue
Night 25 Secret of My Profession
Night 26 Son of David Have Mercy On Me
Night 27 Anointing For Sound Decision
Night 28 I Declare My Mission
Night 29 In His Name, By His Blood
Night 30 Great Arm Of The Lord
Night 31 Power of The Highest, Come Upon Me
Night 32 I Reject, I Renounce, I Receive, I Proclaim
Night 33 Possessing Divine Opportunities
Night 34 Possessing Divine Blessings
Night 35 Provoking Angelic Assistance
Night 36 Heaven Over Me
Night 37 My Labor and My Harvest
Night 38 Rearrange My Thinking Pattern
Night 39 Rearrange My Present Situation
Night 40 Planting Good Seeds