WEALTH MUST CHANGE HANDS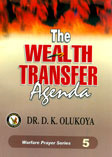 2 Kings 7
• For abundance, prosperity and financial breakthroughs.
• To release wealth into your bosom.
• To paralyze the spirit of poverty.
• To recover lost benefits.
As you pray these prayer points, God will baptize you with the power to get wealth and wealth will change hands in your life.
CONFESSIONS
For the LORD God is a sun and shield: the LORD will give grace and glory: no good thing will He withhold from them that walk uprightly. O LORD of hosts, blessed is the man that trusteth in thee.
Psalm 84:11-12
But thou shalt remember the LORD thy God: for it is He that giveth thee power to get wealth, that He may establish His covenant which He sware unto thy fathers, as it is this day.
Deut. 8:18 Continue reading »